Client: SK IE
Role: UX Consult
Team: 2 UX, 1 UI, 2 game artists, 3 engineers and 1 PM
Responsibilities: User Research, UX strategies, User flows, Usability testing.
FSU GAME UX DESIGN
FSU is a fun and easy to pick up but deep mobile gaming experience for casual to core users with fully integrated the two most common smartphone activities - chatting and games.
Research shows:
98% of users text message regularly
79% of users use some sort of social network
76% of users play games regularly
Target demographic: Female: 18-35 years old
More female smartphone owners in 2013
More female in 3 top activities than male
More than 6 out of 10, or 63%, of female mobile gamers play social multiplayer games
Contagious - women are twice as likely to check text on the smartphone if someone else has just done the same.
Pain point
Either quickly disposable casual games or overly complicated hard core games have saturated the market.
Casual games = greater mass market but low retention and LTV.
Very little in-between but the few that are actually good take over the space for a long stretch at a time.
Evolution of traditional friend list . by leveraging 3D characters and environments
Create the sense of delight and fun for the user on otherwise mundane screens.
Integrate gameplay elements into a widely accepted MiM UX to create a more engaging experience.
Smooth flows between different functionalities such games and chat.

Games and Chatting are built to complement and enhance each other. Game First but not "Chat Optional".
Key features
Fun and playful representation of the users with customized avatars.
Cute and unique collectibles as rewards from interactions with friends.
Easy communication through text message and rich media.
Asynchronous multiplayer cooperative gameplay.
Underlying social-game platform with real value to casual gamers.
Built from the ground up to be completely cross platform for . both iOS and Android.
USER Testing
I conducted 5 rounds of prototype user testings in our San Francisco office.
Users: 25 (85% female, 15% male)
Session duration: 20 - 30 minutes
Research Sample Report
Users' Pain Points while using the App
Poor navigation: hard to figure out how to change avatar's hair colors, how to get more outfits, etc?
Buttons are too small
Friends' name disappear too quick
Some icons are confusing, not sure that it means.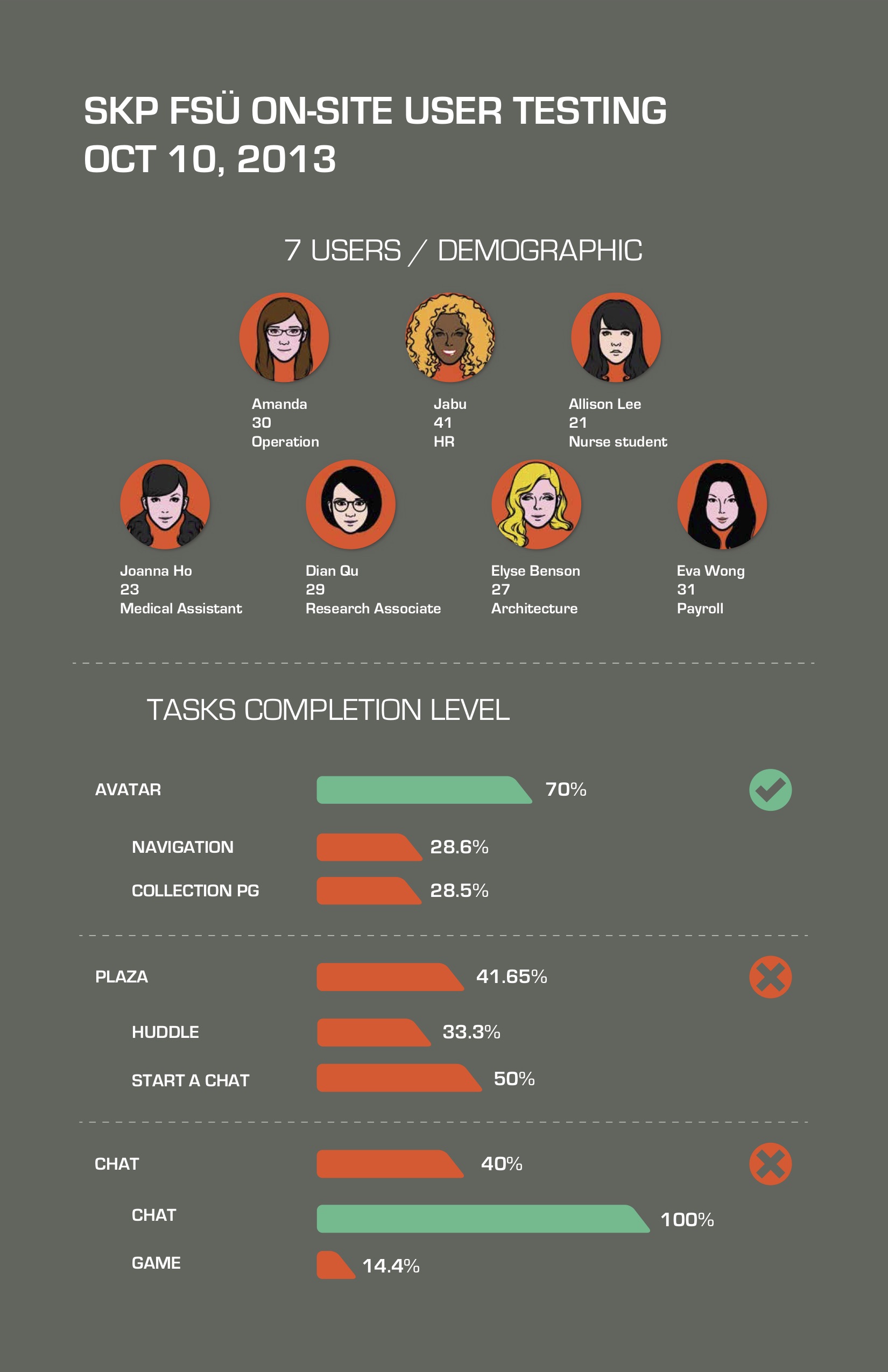 Solutions
Redesign avatar creation navigation (add instructions when first time user load the page)
Use pagination dots on outfit section to keep it consistent as the collection page.
Keep the friend's name showed all the time (huddled + dismissed).
Add search on "Friend list" section, only show when friends get dismissed.
Big buttons: Min. 44x44 pt
Add labels to icons to prevent future confusion.